About us
Doing What We Love...Our farm Is Different
The Beef Side of the Team
Farmer Jim ( James Thoman ) , Grassland Manager and Order Processor is responsible for producing the forage for all the Grass Fed Beef, Lamb, Pasture Pork, Chicken. & Turkey.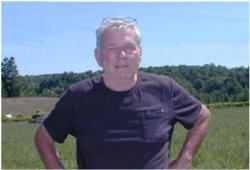 In the summer Farmer Jim continually is walking the fields looking to see how the grasses are growing, decides which fields the cattle and lambs will enter next to graze and in the spring decides what seed to be used to over seed the fields to produce consist forage.
June and July is haying time and all the equipment must be ready to bring in the hay. Throughout the year as the orders are received on the Web site, farmer Jim confirms the orders on line, prepares the shipping labeling and invoices, and sets up delivery dates to Ontarian's most Mondays & Tuesdays for the following day delivery. ( weather permitting).
Jeff Steffan,
Cattle Supervisor and Fence Inspector checks in with the cattle every morning to see what's new with the herd and ensures that all the fencing is secure and repaired if necessary. In the summer he is busy making sure the new born calf's are on their feet and do not need any help. He also checks on the free choice of kelp and makes sure the water is running. During the winter months when additional food is necessary, he delivers large hay bales to the animals in the back 40 where the rolling hills and many trees provide winter shelter.
Team Pork
Mike Lafond and Jeff Steffan work together at farm # 3 my pig & chicken farm. They both enjoy working with pigs and chickens and are excited to be raising pigs and chickens out doors..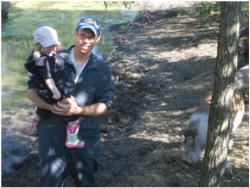 Jeff grew up in the farming district of Orangeville working on many different types of farms....from dairy to horse farms and now on a GRASS FED BEEF FARM. He understands animal husbandry and the needs and behaiour of pigs, chickens, and lambs which makes him a great friend of the herds and flocks. Jeff handles the day to day care of the animals and lives on one of the farms with his wife Laura and 3 year old boy twins He visits the pastures daily to make sure the animals are healthy and safe.
Mike grew up in the Owen Sound area working with farm animals and is a graduated in Marine Aqua culture. Mike has wanted to try free-range production since he saw outdoor farms in USA in 2008. He enjoys interacting with consumers and educating them about small farm food production. Mike takes the lead on managing and administrative of our new wild fish department. He is always happy to talk to people who want to learn more about how Fish are raised. He also helps with the care of the pasture animals when Jeff or Farmer Jim needs a break.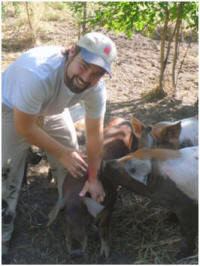 Plan a Visit To Our Beef, Lamb and Pork Farm
Anyone is welcome to visit our farms anytime. No trade secrets. No locked doors, cameras available for picture taking if you do not have one.
Pasture pigs and grass fed beef & Lamb move frequently to new pastures offers superiority in nutrition and landscape healing. Plants and animals are provided a habitat that allows them to express their physiological distinctiveness and ability to develop to their fullness as Mother Nature intended.
Pigs love to root up everything, so, in their first week or so, they will root up everything deeper than any roto-tiller can. What we love about this is that they turn our soil for us, which turns over the seed bed. What we see grow back is amazing! Seeds that have been dormant for many many years now sprout up in our pastures.
The Unfortunate Alternative

Factory farms, or CAFO's (concentrated animal feeding operations) raise and process livestock in confinement at high stocking density and where a farm operates as a factory — a practice typical in industrial farming by agribusinesses. The main products of this industry are meat, milk and eggs for human consumption.

Although there are differences in the way factory farming techniques are practiced around the world, the debate over the benefits, risks and ethical questions of factory farming and whether factory farming is sustainable and ethical still remains a hot button topic.

Confinement at high stocking density is one part of a systematic effort to produce the largest results or output at the lowest cost - relying on economies of scale, modern machinery, biotechnology and global trade. Unfortunately, confinement at high stocking density requires antibiotics and pesticides to control the spread of disease and pestilence that are naturally increased by crowded living conditions. Additionally, antibiotics are used to stimulate livestock growth by killing intestinal bacteria.

The issues include:

the efficiency of food production, ·

animal welfare, ·

whether it is essential for feeding the growing global human population, and ·

the environmental impact and the health risks. ·