I ship throughout Ontario from Cornwall to Windsor and north to Ottawa including the golden horse shoe
Call me with any questions any time!
Cell: 416-580-1900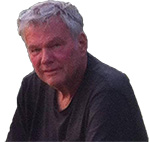 Next Packing date: Monday 18th 2021
Next Receiving date: Tuesday October 19th 2021
Future shipping dates:
I deliver every week to Ontario's Cities, Towns and Hamlets...Orders must be in by 11 pm on Sunday nite ...My next packing date for the following day delivery is October 18th.. 2021
other packing dates are ... 25th ... Nov. 1 ...8th ...15th...22nd...29th... 2021
Click on an image below to view our selection of healthy meats and food products:
About Us
Doing What We Love...Our farm Is Different
The Beef Side of the Team
Farmer Jim ( James Thoman ) , Grassland Manager and Order Processor is responsible for producing the forage for all the Grass Fed Beef, Lamb, Pasture Pork, Chicken. & Turkey.
In the summer Farmer Jim continually is walking the fields looking to see how the grasses are growing, decides which fields the cattle and lambs will enter next to graze and in the spring decides what seed to be used to over seed the fields to produce consist forage.
June and July is haying time and all the equipment must be ready to bring in the hay. Throughout the year as the orders are received on the Web site, farmer Jim confirms the orders on line, prepares the shipping labeling and invoices, and sets up delivery dates to Ontarian's most Mondays & Tuesdays for the following day delivery. ( weather permitting).
Read more
….Would you like to know where your meat comes from?
To help people eat healthy food, I grow, produce and sell Grass Fed Meats, Pasture Pork and Free Range Chickens in the Municipality of West Grey. Ontario which is located half way between Kitchener & Owen Sound off Hwy. 6
Come visit my farm anytime and learn more about the meat you are buying and how the animals are raised. No trade secrets, no locked doors, complete walk-around & full transparency. Bring your camera or use mine. And if you come I have a special healthy gift for you and your family…..free range & pasture raised eggs ………I will send you directions.
I ship every week on Mondays or Tuesdays to your home or place of work for the following day delivery by courier (weather permitting too hot or too stormy ) to Ontario Cities, Towns, and Hamlets. including Toronto the Golden Horseshoe, Barrie, the Muskokas, Peterborough and east along the 401 to Kingston and on to Cornwall and anywhere in between and of course west all the way to London and Windsor and north to our Capital…… Ottawa ……and for Quebec border towns please contact me at jim@grassfedbeefontario.com or call me at 519 369 5400
You can order healthy meat any time you require it, no contracts or long term commitments required.
Our Testimonials
What my clients are saying...
Thank you so much for a lovely farm tour. It was good to see how animals are cared for . I could never get my self to buy store meat without the feeling that I harm my body. Knowing my farmer and having...
Aleksandra from CaledonJanuary 24 2021
to James I just wanted to reach out to you and thank you for the gift meat order I placed. The recipients of the gift, my grandparents, were really happy with the package and have been really enjoying...
Cambren TorontoDecember 17 2020
Simply amazing meat! Full of flavour and great quality, miles better than the supermarket meat. Will be ordering regularly!
October 25 2020
It's that time of year again to take that beautiful drive up to Farmer Jim's farm to pick up our supply of chicken. Farmer Jim's chickens are by far the best tasting chicken we've ever had. As a friend...
Victor MississaugaOctober 24 2020
Cory Simmons 6:58 PM (6 minutes ago) to Farmer Hi Jim, just wanted to let you know the meat is fantastic. Made up a shoulder roast in the crock pot. Kids loved it... They were so surprised how much...
CorySeptember 22 2020